Science Youth Vectors
---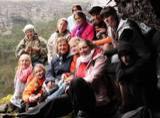 A Youth Science Factory programme.
Science Youth Vectors programme aims to establish close partnership based relations between different organisations involved in youth science and technology activity and to stimulate collaboration between them in different fields and on different projects. It is a platform, where any organisation affiliated to MILSET could propose the idea of a new interesting project and look for partner organisations in other countries.
Science Youth Vectors programme includes projects as short-term bilateral events where children from two different countries meet together to complete a project in a certain field of science. Such a form of cooperative activity is most useful for developing the children intellectual, emotional and moral potential and one of the best ways to attract them to science and technology.
If you have an idea of a joint project which could be realized by children teams from two courties and you need a partner organization to make it real, if you are looking for some other kind of partnership (fund raising, exchange programmes, etc.) just fill in the project card :-)
Main steps of a project
Filling in the project form on the MILSET website
Searching for a partner
Looking for funds
Designing a joint programme
Working at the project
Running the project
Presenting the results
---
---